Your #1 HVAC Company!
Serving Edinburg TX, and Nearby Areas
Welcome to Cool Aid Air Conditiong your family-owned HVAC contractor right here in Edinburg, TX. With more than 20 years of experience under our belts, we provide comprehensive air conditioning, heating, and commercial refrigeration services, delivered by our team of licensed, insured, and professional technicians. Reach us anytime at 956-784-2496 for personalized service that prioritizes your comfort and satisfaction.
Dependable AC Repair and Heating Services in Edinburg, TX
Residential and Commercial Services
Why Choose Cool Aid Air Conditioning?
As a seasoned local HVAC contractor, we understand the specific heating and cooling needs of the Edinburg, TX climate. Be it the hot summer heat or the chilly winter nights, our comprehensive AC services and heating solutions are designed to ensure your home or business stays comfortable all year round.
HVAC Services for Your Home or Business
From AC installation to AC maintenance and AC repair, our team is always prepared to keep you cool and comfortable.
Whether it's AC installation, AC maintenance, or AC repair, our team is at your service. Our "AC repair near you" is more than a statement - it's our commitment to you. Our extensive local knowledge, dedication to customer satisfaction, and prompt service guarantee that you receive the best cooling solutions when you need them the most.
Our licensed and insured technicians deliver top-quality furnace installation, furnace repair, and furnace maintenance services. We strive to keep your heating system working at peak efficiency, ensuring a warm and cozy indoor environment during the colder months.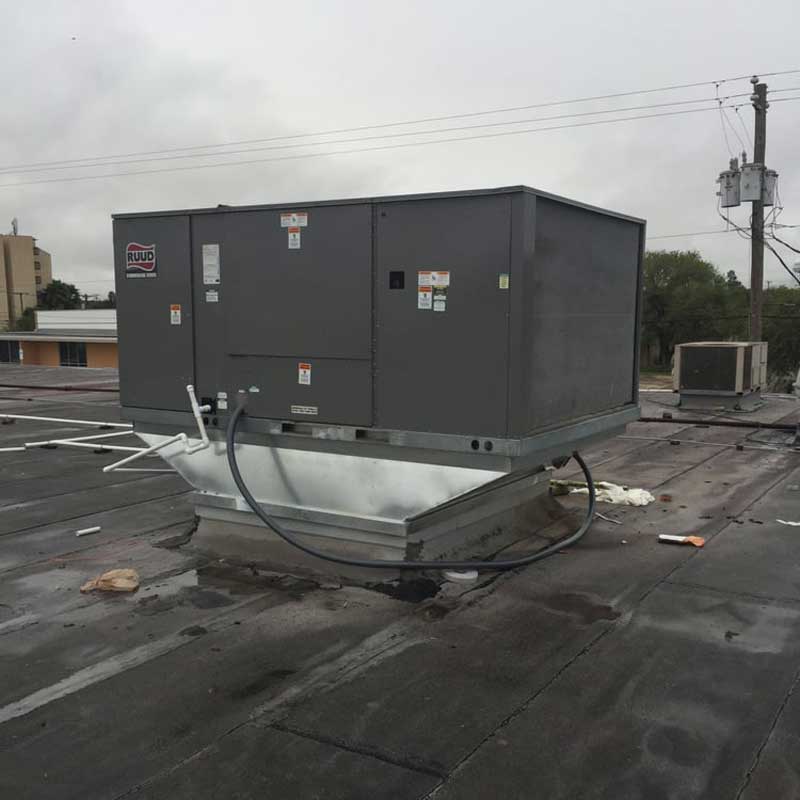 Efficient and well-maintained ductwork is critical to the quality of air and temperature control in your home or business. Our team of professionals provides expert inspection, cleaning, and repair services for ventilation systems, enhancing your HVAC system's efficiency and longevity.
Beyond heating and cooling, we offer commercial refrigeration services. Whether it's freezers, coolers, ice machines, or any other commercial appliance, we've got you covered. Your business deserves the best, and that's what we're here to provide.
Part of the Local Community
Cool Aid Air Conditioning is more than a local HVAC business in Edinburg, TX — it's an integral part of the community. For over 20 years, we have built not just client relationships, but friendships with the people of Edinburg. Our commitment to delivering reliable air conditioning, heating, and refrigeration services is directly tied to our strong connection with this community.
As a local family-owned business, we understand the unique climate of Edinburg, and with it, the specific heating and cooling needs of our neighbors. We are not just serving customers; we're serving our fellow residents, ensuring their comfort in their homes and workplaces.
At Cool Aid Air Conditioning, we're more than just your trusted HVAC contractor. We're your neighbors, committed to enhancing the quality of life in our shared community with our professional and reliable services. Our deep roots in Edinburg, TX, keep us dedicated to doing what we do best — serving you.
Frequently Asked Questions
01
What are common issues with my AC unit?
Many factors can affect the performance of your AC unit. Some common problems include:
Poor Airflow: This could be due to dirty filters, blocked vents, or malfunctioning fans.
Insufficient Cooling: An AC unit that doesn't cool properly might have a low refrigerant level, a dirty condenser coil, or a defective compressor.
Unusual Noises: Squealing or grinding sounds may indicate mechanical problems, such as a failing motor or a loose belt.
Frequent Cycling: If your AC is switching on and off too frequently, it may be too large for your space, or it might be having thermostat issues.
Bad Odors: Musty odors might signal mold or mildew in your ductwork, while a burning smell might indicate a mechanical problem.
02
What questions should I ask an HVAC contractor before hiring?
Before hiring an HVAC contractor, consider asking these key questions:
Are You Licensed and Insured? Cool Aid AC & Refrigeration is licensed and insured. Our license number is #TACLA-35238R.
Do You Have Local References? Read our reviews to hear what our customers are saying.
What Brands/Products Do You Service? We service all makes and models of AC units and furnaces.
Do You Offer Warranties or Guarantees? We offer a 1 year services and parts warranty.
Remember, at Cool Aid Air Conditioning, we're always ready to answer your questions and provide expert advice.
Give us a call at 956-784-2496 today!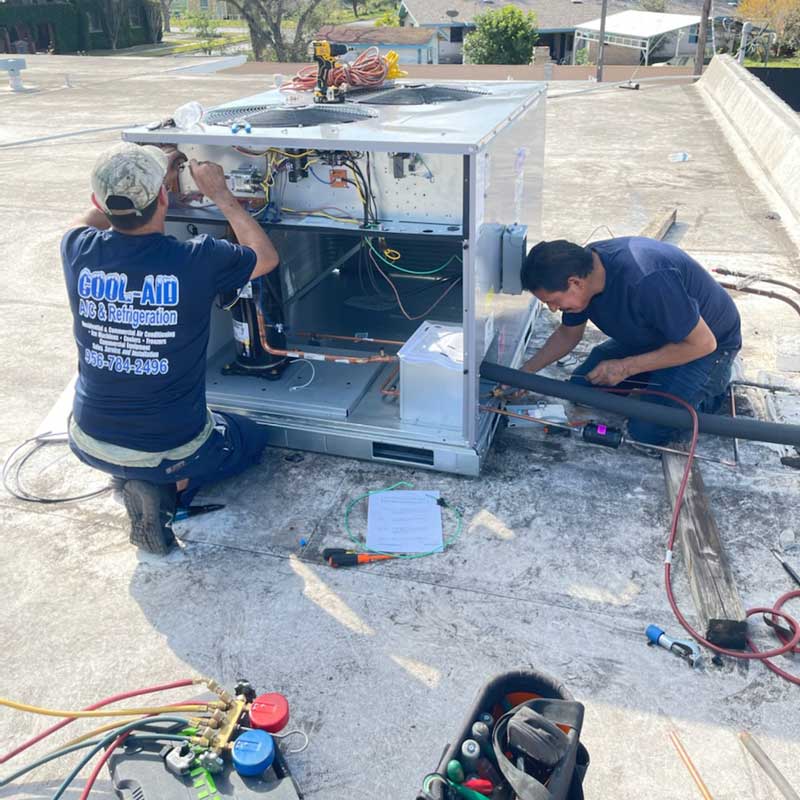 Why Wait? Get in Touch Today!
Don't let a poorly performing HVAC system affect your comfort or disrupt your business operations. With our wide range of services, expert technicians, and personalized service approach, we're the go-to choice for all your heating, cooling, and refrigeration needs in Edinburg, TX. Give us a call at 956-784-2496 and experience the difference a family-owned business with over 20 years of experience can make.

Carlos is just a call away. I called him on 4/20/2023 at 6 p.m. Said he would come over around 1 p.m. the next day. He showed up at 10 a.m. Turned out it was nothing serious thank god but he took care of the problem right away. His work is exemplary and his prices are fair. He is a great trustworthy gentleman. We will remain loyal customers.
~ Rebecca Rodriguez Carrizales

Carlos and his crew are just great. I was out of town when the house sitter called me telling me that the air conditioner stopped working and so I contacted Carlos and he was able to fix the problem the very next day. Very prompt and professional.
~ R C

Carlos came on a Friday, gave us a quote and said he could install the next day. Arrived on the scheduled time and 45 minutes later we had A/C, for the quoted price. I had some other people do some work for us and the final price was well above the quoted price. Carlos was fantastic, honest and very professional. I highly recommend him for all you A/C needs.
~ Michael Gavin